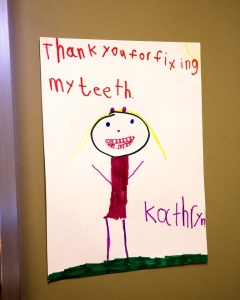 A beautiful, healthy smile can change the life of a kid due to confidence he or she will have. Having properly maintained and aligned teeth can prevent gum disease, tooth decay and loss, impairments in speech, difficulty in chewing, bad headaches and neck pains. Round Rock Family Dental understands the importance of a healthy smile and offers a large number of children's dentistry services such as Invisalign, Fastbraces® & Fastbraces®ClearTM, Porcelain Veneers, LUMINEERS, Porcelain Crowns (Caps), Porcelain Fixed Bridges, Dental Implants, Composite Fillings, teeth whitening and more!
Visiting the dentist shouldn't be taxing for the child and they should enjoy coming to the clinic. This is the philosophy behind our services as we take real pride in helping children have a pleasant and gentle dentistry experience. In case pain is to be avoided, we also have sedation dentistry available to help reduce the pain and anxiety.
To have fun during the child's time spent in the clinic, we have a large number of  flat screen TVs in our exam rooms, which helps in taking the mind of children off the examination. It is essential to introduce dental hygiene in children from a very young age and this helps to prevent fear of visiting a dentist. We even have children visit with their parents as young as 2 years of age to get familiar with the environment.