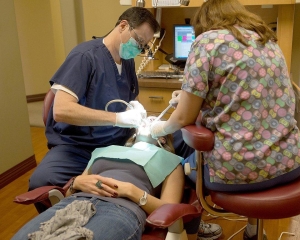 Cosmetic dentistry refers to a vast array of dental services that help to improve the appearance of a person's smile. Various services that fall under the umbrella of cosmetic dentistry include the addition of a dental material to teeth or gums, removal of tooth or gums, or straightening of teeth. Some of the services that are offered at Round Rock Family Dental include:
Invisalign – This is a modern method of straightening teeth using a series of clear aligners that are custom made for the intended recipient.
Fastbraces® and even the brand new Fastbraces®ClearTM – This is an improved system of straightening teeth significantly faster than conventional braces and longer-lasting than Invisalign.
Porcelain Veneers – These are extremely thin, custom-made shells of material that are color-matched to your teeth; the veneers cover the front surface of your teeth, immediately improving tooth color, eliminating gaps and undesirable tooth shapes.
Lumineers – Allow for quick and easy veneers with a painless procedure to get permanently white results. These particular veneers last up to 20 years and require no painful tooth preparation.
Porcelain Crowns –  A dental crown is made from porcelain and is essentially a tooth-shaped "cap" over a tooth that restores its shape and size, and improve its appearance.
Porcelain Fixed Bridges – A fixed bride is made from porcelain and replicates the look of the natural tooth enamel, giving your bridge a strong base to rely upon.
Dental Implants – Dental implants allow for tooth restoration at the individual tooth level and give a unidirectional movement capability for the tooth.
Composite Fillings – This is a tooth-colored mixture of plastic and glass employed to restore decayed teeth.